PETRONAS Lubricants International Releases New PETRONAS Urania Engine Oil Range with Strength at its Core
Refreshed and expanded range of high-tech engine oils gives trucks the resilience to overcome the challenges of today's journeys across EMEA.
Presentation on Youtube channel
Santena, Torino – 15 February 2021 – PETRONAS Lubricants International (PLI) today announces the launch of its new PETRONAS Urania oil range, engineered with core strength for both light- and heavy-duty trucks and commercial vehicles. With new Strong Tech™ technology, PETRONAS Urania doubles down on delivering the durability needed to withstand even the toughest situations across EMEA.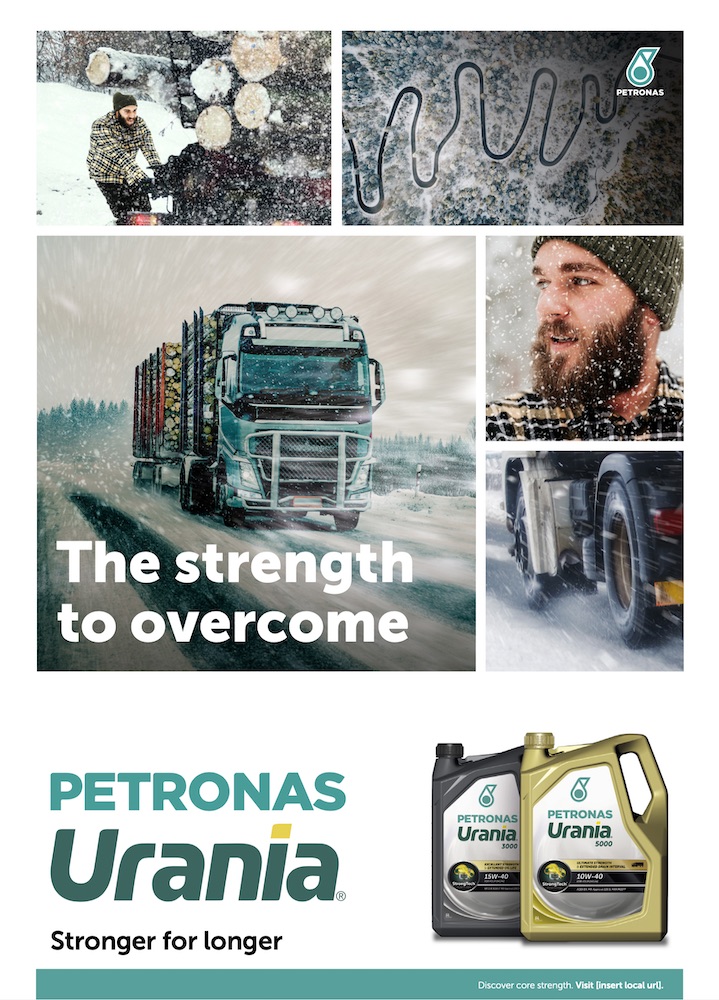 In the face of high engine temperatures, oxidation and deposits, PETRONAS Urania brings core strength to trucks and vehicles that must survive harsh conditions and heavy loads, from extreme weather to higher demand to restock store shelves quickly. Every innovation has been tailored to maximise performance across all major vehicle brands. The new range of high-quality oils extends drain intervals, minimises wear, reduces unplanned downtime and ultimately ensures complete operational flexibility, through a unique formula. 
Developed with StrongTech™ technology at the PLI Global Research & Technology Centre in Santena (TO), the new formula enables vehicles to stay stronger for longer as the oil forms a uniquely strong fluid film. Incredibly robust molecule chains lock away soot to maintain optimal viscosity and defend against wear and oxidation, extending the oil's efficiency right up to the next drain. PETRONAS Urania is designed to boost engine life under pressure, so it can continue to inspire confidence in fleet managers, and mitigate the threats currently faced by those who earn a living behind the wheel. 
The profitability that comes with staying on the road and maximising the vehicle's capabilities is thanks to 20 years of PLI experience in improving fuel efficiency and reducing the total cost of ownership. In addition, the continued support services PLI provides to its customers further enable users to get the best from their PETRONAS Urania lubricants. Only with the smartest technologies and best support can drivers have the sheer confidence in their truck to get the job done on time and within budget. 
These decades of experience and extensive research have produced a better fuel economy, reduced emissions and enhanced reliability and durability. PETRONAS Urania is also engineered with CO2 reduction in mind, so drivers can maximise uptime without compromising on sustainability. For example, the new PETRONAS Urania 5000 5W-30 maintains a much thinner film compared to conventional 5W-30 oils, significantly reducing fuel consumption and harmful emissions. Altogether, the range meets the strictest international standards for quality and environmental impact. 
By keeping responsible vehicles on the road for longer, fleet managers and their drivers can not only meet tough regulations for sustainable mobility, but also stay at the forefront of fleet operation in the long term. 
Domenico Ciaglia, MD EMEA, PLI, said: "Our customers are looking for core strength they can trust. Many of them face challenging schedules, challenging terrains and challenging weather on a daily basis. The new PETRONAS Urania formula provides the strength for trucks to run stronger for longer thanks to development and testing at the most extreme events, including Formula 1, Moto GP and the Dakar Rally. This technology has proven its mettle time and time again. With PETRONAS Urania, fleet managers, drivers and their vehicles will have the confidence to face any challenge." 
To share more of PETRONAS Urania's core strength with its users, the PLI team will be bringing the Unstoppable Heroes - PETRONAS Urania Roadshow to Europe. More information will be released later this year. 
About PETRONAS Lubricants International 
PETRONAS Lubricants International (PLI) is the global lubricants manufacturing and marketing arm of PETRONAS, the global Fortune 500 national oil corporation of Malaysia. Established in 2008, PETRONAS Lubricants International manufactures and markets a full range of high-quality automotive and industrial lubricants products in over 90 markets globally. Headquartered in Kuala Lumpur, PLI has over 30 marketing offices in 27 countries, managed through regional offices in Kuala Lumpur, Turin, Belo Horizonte, Chicago and Durban. 
Currently ranked among the world's Top 10, PLI is driving an aggressive business growth agenda to secure its position as a leading global lubricants company.